Welcome to
Lithies Hotel
Korithi Zakynthos Greece
Lithies Hotel is situated in the north of the beautiful island of Zakynthos in the picturesque traditional village of Korithi. Located in the midst of alush olive grove, Korithi boasts stunning unobstructed views of the Ionian Sea and the island of Kephalonia. All this creates an ambiance of serenity and spectacular natural beauty. It is also uniquely placed for our guests to enjoy the island's breathtaking radiant sunrises as well as its captivating romantic sunsets.
Our family built the Lithies Hotel with love, aspiring to offer a relaxing family vacation while weprovide the amenities, privacy and wonderfully peaceful surroundings. We are conveniently located for our guests to enjoy long walks and bicycle rides or explore the nearby world famous Navagio beach and the Blue Caves. The rest of the time our guests can unwind at one of our sun drenched pools enjoying our refreshing beverages and snacks.
At our family hotel, we look forward to welcoming you and offering you the hospitality that Greece is famous for. If you are looking to escape from the stresses and strains of everyday life, we are ready to make your dream come true. 
Our Studios & Apartments
Lithies Korithi Zakynthos Greece
Awards
Lithies Korithi Zakynthos Greece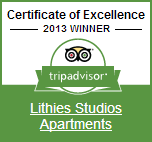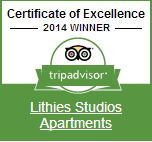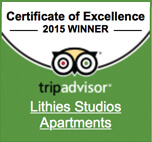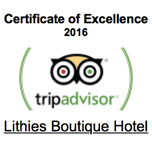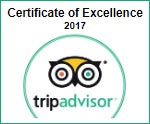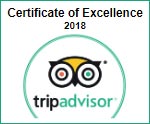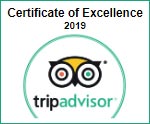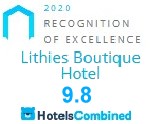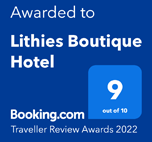 Video
Lithies Korithi Zakynthos Greece
Testimonials
What People say about us
This was our third visit to Lithies this time we brought our two Grandchildren and their parents Lithies was even better than our last two visits. Matina and her staff looked after all of us very well. The rooms were spotless as was the whole place The breakfast was great and our Grandchildren were very keen on the hard boiled eggs The two pools were ideal for the Children so good the children had no interest in going to any of the beaches we had a very good light lunch great as the amount of good restaurants in the port where you got large portions. Matina and staff were fantastic and hopefully we will be back again next year.

malcolm macnaughton

I really recommend this hotel. I and my mom stayed 5 days, but we think 7 days are better. Best place to stay in the whole Zakynthos Island!! Peaceful, Nature, Blue Caves like our garden, perfect and huge Balcony (complimentary sunset), Nice staff (All the "Marias", Veronica and Martina :) Miss this place already!!!! A gem in the North of Zante!!! Looking forward to come back

Flavia P

The magnificent view while swimming in the pool is worth staying there. Friendly people, nice rooms in a beautiful environment. Located near the windwill and blue caves. Two restaurants on a 10 minutes walk

adriaan1232018

Great hotel, even better than the pictures. Stayed here for 10 nights and was surprises by the fact that it only had 2 stars. Would rate this hotel at least 3, but maybe even 4 stars. Also nice blue caves to swim at walking distance (15 min). Tip: rent a scooter to drive around the island. Got one from a company the hotel tipped: they brought the scooter to the hotel and picked it up after our stay.

David A

Lithies is a beautiful place and is set in a lovely part of Zakinthos with stunning views. Matina and her staff were very friendly, helpful and made our stay there so much nicer. We enjoyed every minute of it and will definitely go again next year, its ideal for a rest in wonderful surroundings. We enjoyed the trip to The Blue Caves and the Shipwreck too which to get the boat we could walk to from Lithies. Thank you Matina and staff for a lovely time.xxx See you next year:)

christopher steer